NEWS FLASH: CarMax Caught on Camera Selling Unsafe Cars - AGAIN
"Used cars with open safety recalls for sale"
WCBV -TV, Boston
By Kathy Curran
December 14, 2015
"Risk of engine failure, brake failure and even fire -- all potential problems with a Jeep Grand Cherokee put on display on Boston Common by two consumer protection groups.
5 Investigates went undercover, partnering with the Massachusetts Public Interest Research Group and research analyst Sean Kane of The Safety Institute. We hit the CarMax lot in search of used cars for sale with unaddressed safety recalls and also searched the dealer's inventory online.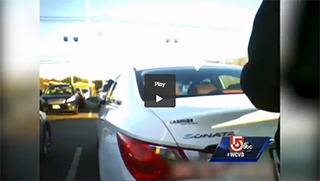 CarMax Caught on Camera Selling Unsafe Cars - AGAIN
We found car after car with serious safety problems and 5 Investigates' cameras watched as Kane bought that 2012 Jeep Grand Cherokee Laredo at the CarMax dealership in North Attleboro.
The car looks great and according to CarMax it passed the dealer's comprehensive quality inspection. So you would think it's safe to drive. Well, think again.
5 Investigates discovered the Jeep has some serious safety issues, so serious that the National Highway Transportation Safety Administration's website shows it has three safety recalls that have not been fixed.
'The bottom line is I've got a $29,000 vehicle that has a potential for a brake failure, the potential for the engine to shut off intermittently and the potential to catch fire,' Kane said."
Watch video:
"Used cars with open safety recalls for sale" WCBV -TV, Boston, 12/14/15