Courageous student fights back against predatory overdraft fees
Wins huge victory -- not only for herself, but for others
harmed by Chase Bank and other banks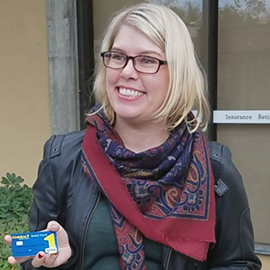 Megan Varvais was a struggling young student living paycheck to paycheck when Chase Bank made the mistake of manipulating the timing of the charges on her debit card. Chase's objective: maximizing their overdraft fees and penalties, at the expense of customers living on the financial edge. Megan was far from alone in being victimized by this sleazy, predatory practice. Millions of consumers were being hit with unfair, exorbitant fees due to banks' practice of switching the timing when charges were deducted from their accounts. Suddenly, without any warning, a $3 cup of coffee cost Megan $32, thanks to Chase's added $29 overdraft fee.
When she learned Chase was trapping her in overdraft hell, and refused to allow her to opt out of "overdraft protection," so her card would be declined instead of triggering penalties, that was the moment when Megan decided to join together with other Chase victims and fight back.
What happened next is inspiring. It also helps explain why consumers' access to justice is constantly under attack by scofflaw corporations and corrupt politicians who have sold out to anti-consumer special interests.
Quote:
"That was when I learned Chase routinely held several days of customers' transactions, then hit their accounts with everything at once — but not in the order they had made the purchases. Chase reordered the transactions from largest to smallest, because it drained accounts faster and triggered an avalanche of fees. It was not by accident, and it was so pervasive there was a lawsuit. The court documents explained how Chase not only re-engineered customers' purchases, but purposefully withheld accurate balance information." -- Megan Varvais
Quote:
"As a direct result of our legal action, Chase agreed to stop charging overdraft fees on debit purchases less than five dollars, and it returned $110 million to customers..." -- Megan Varvais
Read more: Public Justice:
Fighting Chase Bank's Overdraft Math
by Megan Varvais
Full disclosure: Megan Varvais serves on the Board of Directors of the CARS Foundation, where we're enormously proud to have her on the team.
---