BEWARE!
It's shocking, but U.S. car dealers routinely sell hazardous recalled vehicles with killer safety defects. Don't become their next victim. Your safety, and your family's safety, are at stake. Dealers like CarMax advertise all their vehicles have to pass an inspection before they sell them. But what they don't want you to know is -- they fail get deadly safety recall defects fixed. They're playing recalled car roulette with your life. They think they can get away with it, even if you and your family and friends are severely injured or killed.
Always check the safety recall status of any vehicle you're thinking of buying, yourself, before you agree to anything. It's simple, takes just a minute, and is free. Just enter the Vehicle Identification Number
here
, at the website for the National Highway Traffic Safety Administration. If there's an unrepaired safety recall, do NOT buy the vehicle. You may not have time to get it fixed before tragedy strikes.
Father, mother, teenage daughter, and brother-in-law killed
just hours after car dealer handed father the keys to a loaner Lexus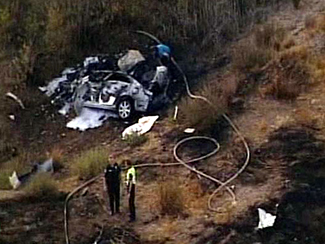 It could happen to anyone. A San Diego area Lexus dealership handed CHP officer Mark Saylor the keys to a loaner car while his car was in the shop for repairs. Hours later, Patrol Officer Saylor, his wife Cleofe Lastrella, their 13-year old daughter Mahala, and Officer Saylor's brother in law Chris Lastrella were on their way to a soccer game when suddenly the loaner Lexus careened out of control, speeding at 120 mph on the freeway, barely missing other vehicles. The brakes failed to slow the car. When the freeway ended, the Lexus crashed into an embankment and burst into flames. All four family members were killed. The publicity from that tragic crash led Toyota to issue a massive safety recall of vehicles that were prone to suddenly accelerating out of control.
Your life is precious. Don't let a greedy car dealer send you and those you love to your graves.
Always check for unrepaired safety recalls before you buy. Be sure to avoid cars with safety recall defects. According to the National Highway Traffic Safety Administration, all safety recalls are serious. Even if the defect may not sound serious to someone who is not an expert mechanic, don't be misled. If a car has an unrepaired safety recall, it's hazardous. Shopping for a used car?
Here are expert tips
for how to get a good deal on a safe, reliable used car -- without getting ripped off or killed by an unscrupulous car dealer.